The Fall Classic. The World Series.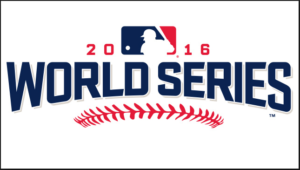 The 2016 World Series is between the Chicago Cubs and the Cleveland Indians, and, so far, it has been a great series. We at Darby Wire Mesh have been glued to the series, mostly because we love the game of baseball. It also reminds us when our Philadelphia Phillies won the World Series in 2008.
One of the neat things about watching the World Series on TV is the shots of the crowd. You can absolutely see how invested the teams' fans are…especially the fans of the Cubs. After all, it's been almost 100 years since they have won the World Series!
In watching the game on Sunday October 30th, we saw a great image of wire mesh in the background. Oh, and in front of the mesh: Jim Harbaugh (right), head coach of the University of Michigan Football team, and his father (left).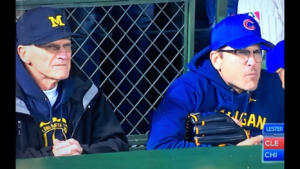 After zooming in on the photo, it appears the mesh is a Lock Crimp Woven Wire Mesh, that has been rotated 45 degrees to create a diamond orientation. It was then likely placed into a channel and painted and/or coated in green. For more information about wire mesh that is used in infill panels, please visit: https://www.darbywiremesh.com/infill-panels/