Today, August 31, 2016, is a bittersweet day at the headquarters of Edward J. Darby & Son, Inc. It is also a special day because we, at Darby, are celebrating the retirement of one of our long-time employees, Noberto B.
"Mister" Noberto, as he is sometimes affectionately called, has been with Darby for 28 years. During his time here, Noberto functioned in many capacities, but he truly excelled in his slitting capabilities.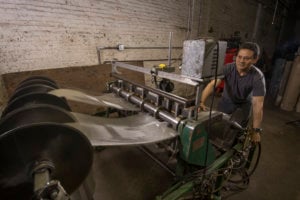 During his time at Darby, Noberto could be counted on for fastidious attention to detail. When there was a job with strict tolerances, Noberto was Darby's go-to-guy!
However, as dependable as Noberto was in his daily responsibilities, what Darby will miss the most is his genuine and warm personality. Over his morning coffee, Noberto would always ask his colleagues how they were feeling and what was new in their lives. Noberto was a breath of fresh air, and all of us at Darby will miss him.
Never one to sit still, Noberto is planning to leave Philadelphia to enjoy his retirement in an idyllic location.