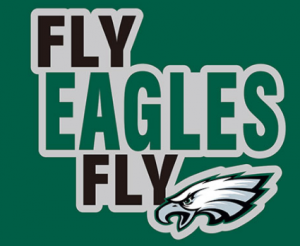 We're back! I know this blog has been silent lately, but now that our Philadelphia Eagles have the best record in the NFL, we're ready to shout out our support for our home team from the rooftops!

To be honest, though, it's been a while since the Eagles have been this good. In fact, the last time our city was swept up in football fever was in 2005 when the Eagles lost to the New England Patriots in the Super Bowl. During that season, the team was lead by QB Donovan McNabb, WR Terrell Owens and RB Brian Westbrook.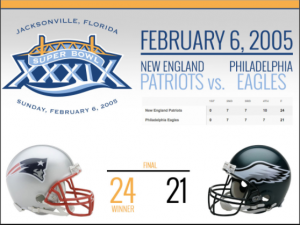 This time around, the Eagles have Carson Wentz, a "North Dakota Tough" quarterback, who holds this city's destiny in the palm of his hands. In his second year, Wentz has already been mentioned in the MVP conversation.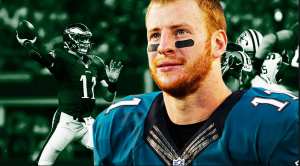 It turns out that Carson and the rest of the Eagles are big fans of baseball. In fact, the birds have used the NFL's relaxed touchdown celebration rules to pretend to play baseball.
The Eagles are also big fans of baseball star (and fellow Eagle fan) Mike Trout. Mike Trout can be found at most games, and often times, after a touchdown, the Eagles will find him and celebrate with him. This image caught our eye this past weekend: Mike Trout and his buddies posing for a picture with a football given to them after the Eagles beat the 49ers on Sunday October 29, 2017.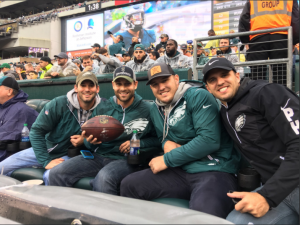 However, as a wire mesh blog, what we really saw was this: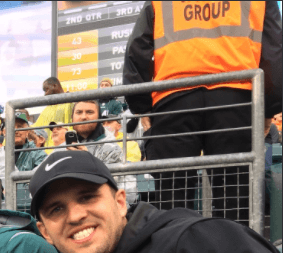 That's right! A Woven Wire Mesh Infill Panel!!!
E-A-G-L-E-S!
P.S. We realize that championing the Eagles this early in the season is not smart. We are also very superstitious. So, should this season end up poorly, we are very sorry!!!